Eyeshield 21 cosplay group!
YA-HA! eyeshield 21 group for CF2009!
this group is for the JAPAN team version
where the ALL STARS of ES21 is in the international youth world cup
there's 2 team for offence and defence
and its for any events in 2009 and 1st day CF09
we're going to do a photoshoot too!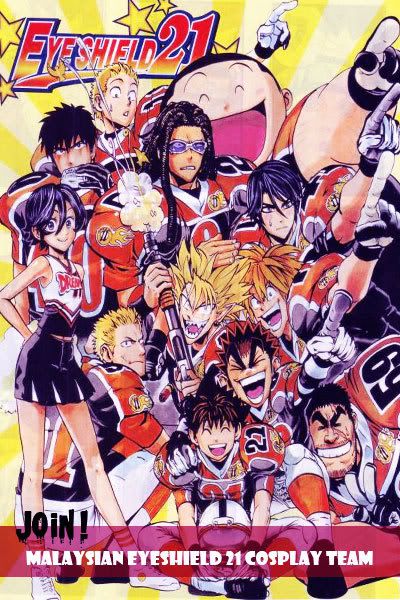 On Offense:
RB/HB Sena Kobayakawa- miyavi honey
RB/FB Yamato Takeru-
QB Mushanokoji "Kid" Shien- anis
QB Hiruma Youichi- sagaranna
C Ryokan Kurita-
OG Hera "Heracles Kureji-
OG "Chuubou" Nakabou-
OT Yamabushi Gondayu-
OT Banba Mamoru- beatbox84
TE Tetsuma Jo-
WR Haruto Sakuraba-
WR Taro "Monta" Raimon- katt-chan

On Defense:
DT Gao Rikiya- ezard
DT Ootawara Makoto-
DE Mizumachi Kengo- WeN
DE Aki "Achilles" Reisuke- ogy*
Middle LB Seijuro Shin- nakamura-kun
Outside LB Kakei Shun- tzezumi
Outside LB Agon Kongo- affan
CB Honjou Taka- kisho
CB Hosakawa Ikkyu- riza
S Maruko "Marco" Reiji- yuo-chan
S Kaitani Riku- narukids deadfish

On Special Teams(Kick team):
Hayato Akaba-
Gen "Musashi" Takekura-
Sasaki Kotaro- satan666*

Others
anezaki mamori- niena*
taki suzuna- mirim_chan

*uncomfirm

will update frequently

MALAYSIAN OFFICIAL EYESHIELD 21 COSPLAY BLOG!
ES21 discussion forum